The Monday After: Fulham vs Norwich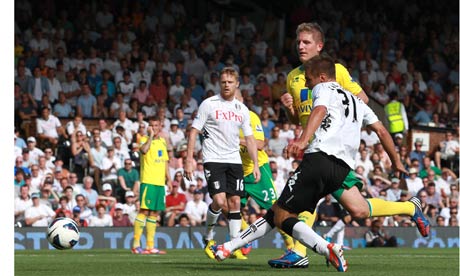 This season, rather than put up my post match thoughts as soon as the match ends, I decided that I'm going to post my thoughts "The Monday After." Too much raw emotion the moments following the final whistle, so this allows me time to reflect on the match with a clear mind.
Problem is, I know I would be in "hell yeah, Fulham!!!" mode straight after the match and not much has changed since Saturday. While I wouldn't call Saturday a complete 90 minutes, which is what all managers hope for from their squads, I will say we had a complete "70 minutes or so" and for our first match of the season, I'll take that (and I'm sure Martin Jol will as well).
Can anyone seriously pick out any negatives? Trust me, you can win 5-0 at home and still find negatives. But after watching the match twice now, I honestly can't point towards a single negative. Mark Schwarzer made a couple saves when he needed to, our back four were very solid, our midfielders were on point and our striker played well. Plus, our subs contributed. Go ahead, try to sell me on some negatives, I dare ya.
Mladen Petric scored twice on Saturday and after finally watching him on television, he certainly doesn't look like a 33 year old player. I'm 37 and I'm told I'm not old yet, but 33 is old for a striker. But he was full of energy and scored two outstanding goals. While the deflected lightening bolt will be remembered most, I was impressed by his first goal, a thunderous header that was clearly a goal (stick that in your goal line technology). If Petric can stay healthy, he will be a special player this season.
Dembele controlled the center of the midfield. I was a little worried about him being placed in that role, but he shined. While Diarra was rock solid as a defensive mid, Dembele's played the role of a "point guard" in basketball terms and really set the pace for us offensively I felt. 
Damien Duff & Alex Kacaniklic (I'm hoping to learn to spell his name correctly without looking before the end of the season) are a contrast. One is in the twilight of his career, the other's career just starting out. Both scored and both looked impressive doing so. 
While Hangeland & Hughes were both solid, I was most impressed with the play of Riise and Riether. Riise looked very fit and got involved with our attack, which is what you'd like to see out of a left back. Reither looked confident and shocked me a bit with his speed. He also looks like he could be dangerous coming up the wing as well. 
Finally, all credit should go to Martin Jol. He came up with a solid game plan this, despite all the Dempsey drama. You can tell he named a starting XI best suited to face Norwich and everything worked to perfection. Also, credit Jol for having the team focused on the task at hand. Dempsey's status could have been a giant distraction, something that has hung over club's in the past like a nasty storm cloud. This team simply reported for duty, delivered a beat down and clocked out. They did their job, much like the rest of us do on a daily basis. 
It was a 100% professional effort and I'm very proud. We're also sitting at the top of the table, so be sure you take a screen cap of that, because it won't last for long. However, if we can put forth this same level of effort week in and week out, it could make for a very exciting season.
Next up, a trip to Old Trafford. Let me just enjoy Saturday a bit longer before I begin worrying about that shit. 
COYW!!!